Nelson-Reed 1204 subwoofer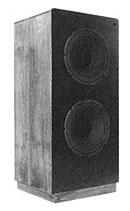 I was so intrigued by the Nelson-Reed 8-04/B amplifier's low-end range that I truly questioned the extra subwoofers could add enough of importance to be savvy. I wasn't right. Two of the subwoofers were given, alongside the fundamental electronic hybrid unit. Each 1204 unit contains four 12" woofers in an exceptionally strong fixed walled in area, with two looking to the front and two confronting the back. The electronic hybrid has three controls, other than the AC power switch: a design (reference 1) sidestep switch, a sound system/mono switch, and a subwoofer level control. In the sound system mode, the low frequencies are kept discrete, left from right; in mono mode, they are mixed together for taking care of to a solitary subwoofer. I won't revive whether it is critical to keep sound system distance into the LF range, but to repeat N-R's perception that there is no LF partition on simple circles regardless; the lows are combined as one, to restrict vertical trips of the cutting pointer that could make it transcend the plate surface or, more awful, dive into the aluminum base of the expert plate. There is, nonetheless, LF detachment on any remaining sign sources, and I can vouch for the way that, when the mix switch was set to Mono, there was a slight loss of LF detail. There was not, in any case, any impact on the sound system soundstage that I could hear. The point here, however, is that the 1204's hybrid permits the choice of mixing low end so a solitary woofer might be utilized whenever wanted, or until you can bear to purchase a subsequent one.
Set-up
Any individual who has at any point taken a stab at utilizing subwoofers realizes that they are wickedly hard to put ideally in a listening room of normal size, in light of the fact that the lower the frequencies you put into a room, the more difficulty you are probably going to have with standing waves. It took me around 10 hours of perspiring and reviling (they're weighty and cumbersome) to get the 1204s in agreeable areas, and I've had more experience doing something like this than most audiophiles. Regarding the main exhortation I can give is that you start with them right close to and past the external edges of the upper-range speakers, check either pair for staging (except if you're sure neither of your power amps transforms stage), and rephase them if essential. Then, at that point, utilize a ceaselessly factor oscillator to move throughout the low-end range, beginning from about an octave over the hybrid point, and tune in for pinnacles and plunges. There will be loads of both. Then, at that point, begin pushing the woofers toward the back room corners, evenly. What you're searching for is a mix of most extreme perfection and most grounded yield through the 20–25Hz territory. Try not to pursue best LF/upper-range balance; you can generally address that with the hybrid's equilibrium control. Two alerts: You would rather not end up with a profound plunge at around 40Hz; that is the recurrence of a bass drum and the lower part of a twofold bass' reach. Also stay away from any speaker area that gives a sharp 60Hz pinnacle; this will overstate murmur from any accessible source. (In the event that you live in Europe, it's 50Hz you need to stress over.) Practically any speaker of sufficient power (50W and then some) will do the trick to drive subwoofers, yet strong state intensifiers show improvement over cylinders, and more power or potentially more current ability will further develop LF detail and control. I utilized an Octave Research, and furthermore attempted the Threshold SA-1s (while I had the Audio Research M300s on top), and it was a shot in the dark.
Sound Quality
The 1204 subwoofer is professed to be level (to inside 3dB) down to an amazingly profound 16Hz. There is basically no melodic material accessible with that sort of base on it; a couple of extremely enormous line organs can create a 16Hz tone, which (indeed) is too profound to ever be heard at any rate, however is felt as a strain on the body. (Indeed, I was unable to check N-R's 16Hz case. In my 19'x24' room, everything I could manage was get the framework genuinely level down to 20Hz, which is still incredibly profound when you really hear it.) Even then, at that point, the main material with profound enough low finish to flaunt the 1204's low end actually marvelously was nonmusical stuff like trains, of which I coincidentally had two CDs close by: the two "Hints of Trains" circles from Bainbridge Record (see include record survey in this issue). Since trains are exceptionally enormous and weighty, they produce sounds which reach well down into the subsonic. The "genuine" sound of vigorously stacked steel wheels crossing a track join in a real sense shakes the earth, and there are numerous instances of that sound on these two circles. The impact was genuinely amazing! My listening room has a substantial floor, realize the framework doesn't have the ability to set that floor into vibration, yet with the 1204s in real life, it positively felt as though the floor was shaking. They delivered what was doubtlessly the most unfathomable low end I have heard in my listening room. Furthermore the nature of that bass was remarkable, as well. While it never had that incredible pulse you hear from a live line organ or twofold bass, it was very much controlled and had fantastic pitch outline. Indeed, the 1204 subwoofers coincided very well with the Sound Lab A-3 speakers, as well, utilizing a similar hybrid. I trust they (or one of them, at any rate) would be great for use with Quads, yet didn't get an opportunity to attempt that mix. ( However, in light of the fact that amazing subbass is uncommon from music accounts doesn't imply that lengthy base is squandered on them