I evaluated JL Audio's Fathom f113v2 subwoofer (reference 1), which highlights, among different upgrades over the first Fathom f113, a superior multiband equalizer. The meaning of this identifies with the extraordinary impact applied by room aspects and acoustics on an amplifier's exhibition. The question of room acoustics itself identifies with the Schroeder recurrence: a progress point, generally somewhere in the range of 200 and 300Hz above which a room will show a high thickness of reflections that are investigated genuinely, and underneath which that room will show a predetermined number of discrete modular reflections. (Accordingly, it ought not to be mistaken for the occasions that Beethoven's music shows up in Charles Schulz's funny cartoon "Peanuts.") Above the Schroeder recurrence, the sound is overwhelmed by thickly covering modes whose properties are effectively tended to with such actual correctives as divider medicines. In any case, in the frequencies underneath the Schroeder or basic recurrence, the room's impact is overwhelmed by discrete modes that rely upon the room's aspects and are more agreeable to electronic revision. (Actual acoustical rectification inside this reach would require the cautious situation of designs whose own aspects are numerically identified with sizable frequencies—difficult to accomplish, except if one has a committed listening room.) Since subwoofers consistently work beneath the basic recurrence, JL Audio's upgrade of the equalizer in their v2 scope of Fathom subs is to be acclaimed; if not, proprietors of simple frameworks would need to purchase an independent equalizer. Notwithstanding, large numbers of us multichannel fans have frameworks that as of now incorporate room-EQ capacities, and keeping in mind that these fluctuate extraordinarily in accommodation and ability, we might not have any desire to purchase a sub with its own EQ, hence adding pointless intricacy and cost. In my Manhattan framework, I like to involve Dirac Live for all playback, as my genuine listening is to records by means of my Baetis server and exaSound multichannel DAC. In my end of the week framework, in Connecticut, I use Dirac Live to play documents, and Audyssey MultEQ XT32Pro for circles. So when my dependable Paradigm Reference Servo-15 subwoofer fostered a murmur, and I chose not to send the 80-lb, 16-year-old sub home to Canada for assessment and fix, I confronted the issue of supplanting it (commentary 2). Everything highlighted getting a fueled sub or subs equipped for great bass augmentation that, more significant, would coordinate acoustically and stylishly with my framework. Furthermore there was no requirement for it to have inherent leveling.
The f113 has an asserted recurrence reaction of 20–86Hz, ±1.5dB, and – 3dB at 18Hz; the E-Sub e110, 25–116Hz, ±1.5dB, and – 3dB at 23Hz. The f113's inherent power amp is appraised at 3000W RMS (present moment), the e110's at 1200W RMS. In any case, the e110's more modest size opens up greater position choices, its lower weight makes it simpler to move, and the utilization of two will moderate a portion of the distinctions in FR and power among it and the f113. Truth be told, the utilization of various subs, painstakingly situated and set up and leveled, is a developing pattern upheld by research endeavors (reference 3) to deliver level, spatially uniform bass reaction in genuine rooms. I was astounded to observe that each e110's twofold boxed container was close to as extensive as the f113's, despite the fact that the e110 gauges just 14.24" high by 13.5" wide by 16.51" profound and weighs 52.7 lbs (contrasted with the f113's 19.25" by 16.5" by 19.25" and 133 lbs). I moved the old Paradigm Reference Servo-15 out of the room (with significant exertion), then, at that point, put one e110 to each side of my middle Monitor Audio Silver 8 speaker, at the front of the room, so the JLAs would be equidistant from my primary listening position. The e110's development and finish were of top notch, and a fantastic counterpart for the Silver 8s. Each e110 has a 10" driver, a couple of RCA inputs, and a couple of RCA yields. With the sub's hybrid drew in, the result jacks give a 24dB/octave, Linkwitz-Riley-separated high-pass signal; when the hybrid is crushed, they give a supported variant of the very sign that shows up on the e110's feedback jacks. Controls incorporate level, channel rout, channel recurrence, extremity, and variable stage, however I crushed the channel and left the extremity and stage at 0¯. All I really wanted was the level control—Audyssey and Dirac Live would deal with all the other things, including EQ. I started with Audyssey, on the grounds that its initial phase in alignment is a helpful subwoofer-level everyday practice. Utilizing the test tones and the e110s' level controls, l painstakingly set each e110 to 75dB, ±0.5dB. Audyssey may retrim the two sub levels during its alignment cycle, but since the server result to the Marantz AV8802A encompass sound processor is 5.1, Dirac Live on the server can't. Estimations taken with Dayton Audio's Omnimic amplifier in addition to programming framework showed that each e110 had an in-room reaction with a profound box (at 53Hz right, 60Hz left), a more extensive mound (44Hz right, 42Hz left), and a smooth rolloff beneath around 6dB/octave, despite the fact that the left sub was around 4' from a corner and the right sub around 4' from an open entryway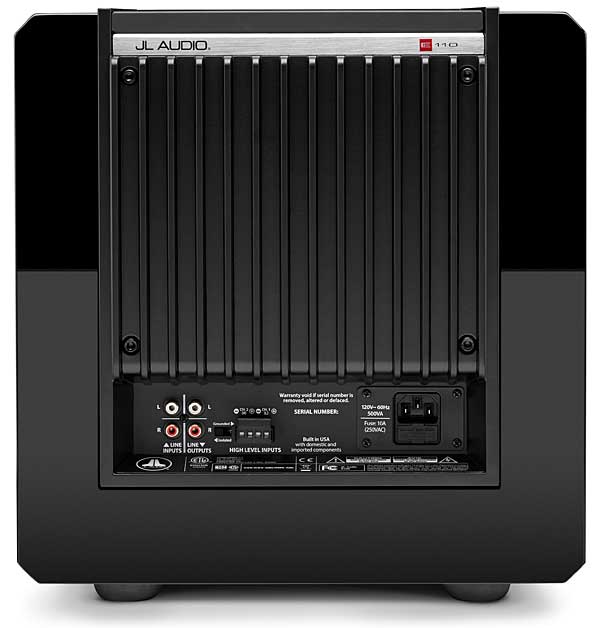 Each e110 has a 10" driver, a pair of RCA inputs, and a pair of RCA outputs. With the sub's crossover engaged, the output jacks provide a 24dB/octave, Linkwitz-Riley-filtered high-pass signal; when the crossover is defeated, they provide a buffered version of the same signal that appears on the e110's input jacks. Controls include level, filter defeat, filter frequency, polarity, and variable phase, but I defeated the filter and left the polarity and phase at 0¯. All I needed was the level control—Audyssey and Dirac Live would handle everything else, including EQ.